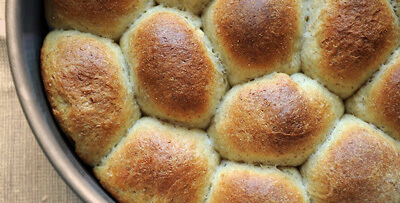 Ingredients:
1 1/2 cups warm water
1/2 tsp sugar
1/2 cup melted butter
1/3 cup brown sugar
3/4 tsp salt
1 package active dry yeast
1 cup rolled oats
4 cups flour
1 egg
Method:
Dissolve yeast in warm water with the sugar. In a large mixer, combine brown sugar and oats. Add butter to the oats and sugar. Add the yeast once it is fully dissolved and foamy. Combine on low speed with a dough hook. Add the egg and salt. Gradually add the flour until dough balls up and comes together. In an oiled bowl, place the dough and put it in a warm place until the dough is risen and doubled in size (usually in about an hour)
Take risen dough and punch it down. Place on an oiled work surface and flatten down evenly (about ½ an inch thick) With a cookie cutter, or biscuit cutter, cut out dough and place in a sprayed pan. A brownie pan would work best or anything with sides. Place back to rise again.
Once doubled in size again, bake at 350 degrees until golden brown and cooked through (about 25-30 mins). Top with melted butter as soon as they come out of the oven. Transfer to a cooling rack once cooled. Pull apart and serve!!