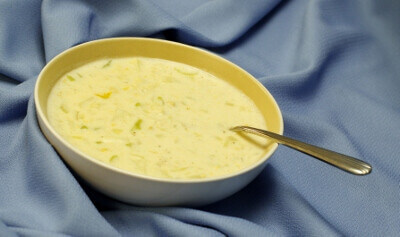 Ingredients:
1/2 a medium yellow onion diced
About 4 stalks of celery diced
4-5 cloves of garlic minced
1/2 Stick of butter
1 tsp salt
1 cup flour
1/2 Gallon whole milk
2 Idaho russet potatoes, peeled and diced
1 tsp salt
1/2 tsp black pepper
1 Tbsp Seafood Base, or Clam base
2 Cups of chopped clams in juice
Method:
In a large, heavy bottomed pot, melt butter and sauté the onions, celery and garlic over high heat. Add 1st listed salt and cook until translucent. Add flour and stir to combine. Lower heat to medium and cook for about a minute. Be careful not to burn. Add Milk, Potatoes, seasonings and clams. Bring to a slow simmer and remove from heat. Check for taste and add more salt and pepper if desired. Serves 4-6.