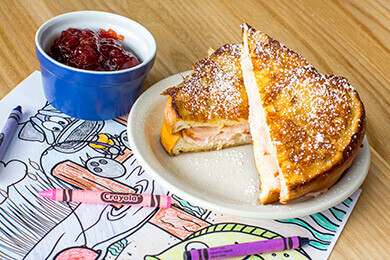 Looking to change up your lunch menu? Here's an idea!
Ingredients:
1 Pound of Sliced Turkey
1 Loaf of unsliced bread, or thick sliced bread
3 Tbsp Mayo
1 Tbsp Maple Syrup
2 Large Eggs
1/2 Cup Milk
2 Tbsp Butter
Powdered Sugar
Strawberry Jam or Preserves
Method:
Combine the mayo and syrup. Spread a thin layer on two slices of bread. Add turkey and close up the sandwich. If slicing the bread yourself, cut about 3/4 inch slices.
Whisk together the milk and eggs until smooth. Dip both sides of the sandwich in the egg mixture. Melt butter in a non stick pan. Brown the sandwich on both sides for about 3 minutes on each side on medium high heat. Sandwich should be golden brown and a little crispy. Eggs should be fully cooked.
Remove from pan, dust with powdered sugar and serve with strawberry jam
Makes 4 Sandwiches