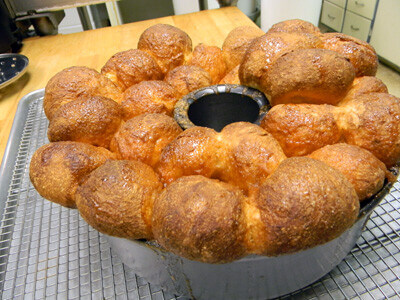 Ingredients:
24 Frozen Raw Dinner Rolls (Small)
1 Cup Brown Sugar
1 Box Butterscotch Cook and Serve pudding mix
1/4 Cup Sugar
1 Tsp Cinnamon
1 Stick Butter
1 Cup Pecans or Walnuts chopped
This is an over night recipe.
Method:
At night, just before bed, spray a bundt or tube pan with pan spray and place the nuts around the bottom evenly. Arrange the rolls around the bottom of the pan. Combine the brown sugar and pudding mix and sprinkle over the rolls. Combine the sugar and cinnamon and sprinkle on top of the brown sugar. Melt the butter and slowly pour it over the rolls and toppings, trying to drizzle over all of the sugar. Leave out on the counter OVER NIGHT! When you wake up, the rolls will have proofed. Heat your oven to 350 degrees and bake for about 30 minutes. Allow to cool for about 10 minutes on a cooling rack then invert the pan onto a serving plate and enjoy!