Ingredients: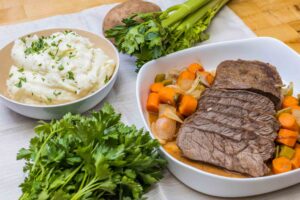 3 Pounds Top Round, Eye Round or Similar Cut (most "roasts" will do)
2 Tbsp Steak Sauce
2 Tbsp Worcestershire Sauce
1 Tbsp Soy
Salt and Pepper
1 Yellow Onion Large Diced
2 Stalks Celery large Diced
5 Carrots Large Diced
4 Garlic Cloves
2 10.5 oz cans Beef Broth
1 Stick of Butter
1/2 Cup Flour
Method:
Place the meat in a large crock pot. Cover with steak sauce, worch. sauce and soy sauce. Season well with salt and pepper. Top with cut veggies and garlic and pour over broth. Set on low and cook for 8 hours.
Meanwhile, melt the butter and stir in the flour to make a roux. Being careful not to burn, cook over low for 5 minutes. Cool Completely.
With half an hour before dinner, Turn the crock pot on high and add in the roux and stir. Always add cold roux to a hot sauce to reduce clumps!
Serve with mashed potatoes and enjoy1