Although the traditional mincemeat does include meat, this one is meatless!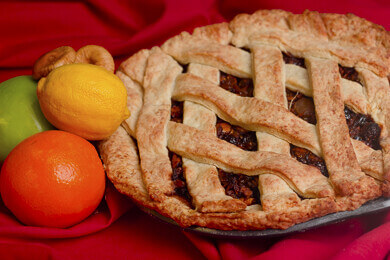 Ingredients:
The Crust
1 1/3 Cup Butter, Cubed
1/2 Cup Shortening
4 1/3 Cup Flour
5 Tbsp + 1 Tsp Sugar
1/2 Tsp Salt
1/2 Cup Cold water
With a pastry cutter, combine butter, shortening, flour, sugar and salt until crumbly. Add cold water and kneed with hands until dough comes together. Add a little more water if necessary. Flatten into a disc and wrap in plastic wrap. Refrigerate for at least half an hour.
The Filling
2 Granny Smith Apples (peeled, cored and cut into large chunks)
8 Oz Golden Raisins
6 Oz Dark Brown Sugar
4 oz Dried Figs roughly chopped
2 oz Dried Cherries
1 oz Crystallized Ginger
1/2 Tsp Nutmeg
1/4 Tsp Allspice
1/4 Tsp Ground Cloves
1/4 Tsp Cinnamon
1 Tsp Vanilla
1/2 Tsp Artificial Rum Flavor
1/3 Cup Molasses
1 Orange Zested and Juiced
1 Lemon Zested and Juiced
Method:
Combine all ingresients into a food processor and pulse until combined and minced. Can be refrigerated and saved for a few days
Roll out half the dough on a floured work surface. Transfer to a sprayed 9″ pie pan. Place filling inside. Roll out remaining dough and cut into strips. Lay the strips over the pie. Trim the sides and press together to seal the edges. Bake at 350 Degrees until golden brown. Let cool on a wire rack and serve!