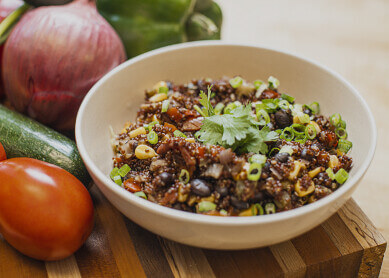 Ingredients:
1 Tbsp Extra Virgin Olive Oil
2-3 Minced Garlic Cloves
1 Red Onion Diced
8oz Uncooked Quinoa, Rinsed
1 Jalapeno, Minced
1 Pepper Diced
1 Cup Zucchini Diced
1 Cup Black Beans, Drained and Rinsed (canned)
2 Tomatoes Diced
1 Cup Frozen Corn
1/2 Tsp Chili Powder
1 tsp Salt
1/2 Tsp Corriander
1/2 Tsp Cumin
1/4 Tsp Black Pepper
2 1/2 Cups Vegetable or Chicken Broth
Green onions for Garnish
Method:
In a large skillet, heat the oil and sautee the garlic and onions for about a minute. Add the rest of the ingredients except the green onions and bring to a simmer.
Simmer, stirring occasionally, for about 20-30 minutes. Once all the liquid has evaporated, check to see if quinoa is cooked. Remove from heat and cover for 5 minutes before serving.
Top with green onions and serve!