Beef Short Ribs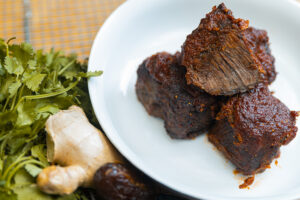 Ingredients:
About 3 Pounds Boneless Beef Short Ribs
2 Tbsp Salt
1 Tbsp Chili Powder
1 Tbsp Garlic Powder
1 Tsp Black Pepper
Olive Oil
1 Cup Water
One Yellow Onion, Diced
1/8 Cup Worcestershire
1/8 Cup Soy Sauce
29 Oz Can Tomato Sauce
6 Medjool Dates
1/2 Cup Dried Cherries
1/2 Cup Dried Figs
2 Tbsp Fresh Grated Ginger
Method:
Pat dry the ribs and coat on all sides with seasonings. In a large skillet, heat a little olive oil on high. Sear the meat on all sides, about 2-3 minutes each. Remove the pan from the heat and transfer the meat to baking pan. Add water and cover with foil- seal well. Bake at 300 degrees for 2 hours.
In the same pan you used to sear the beef, add in the onions and sautee for about five minutes. Add in the worcesterhire and soy sauces and bring to a simmer. Add in the tomato. Remove the pits from the dates and the stems from the figs and add them to the sauce with the cherries and ginger. Simmer on low for 30 mins. Allow to cool slightly and puree.
Remove the beef pan and drain. Coat with sauce and place under the broiler or grill. Serve and enjoy!