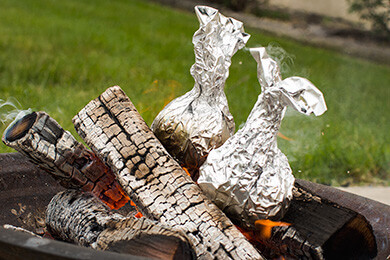 Ingredients:
2-3 Large Onions
2 Pounds Ground Beef
3 Eggs
1 Cup Breadcrumbs
1/2 Cup Ketchup
1 tsp Salt
1 tsp pepper
1 Tsp steak seasoning
1 tsp basil
Method:
Peel and slice the onions. Take the 2 outermost layers and set aside. Mix remaining ingredients together and make 5-6 large balls. Wrap balls in onion. Spray a square of aluminum foil with pan spray and place the meatloaf bombs and wrap. Cook on a campfire on low heat for about 30 minutes turning often to prevent burning.
Visit site60.webdnx.net/nicks-picks for more Nick's Picks.