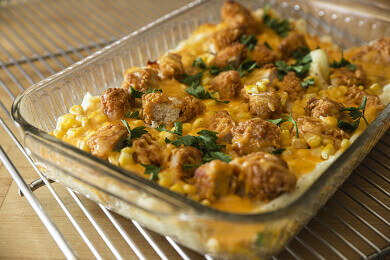 Ingredients:
4 Cups of Peeled and chunked russet potatoes
2 Tbsp Salt
3 Tbsp Butter
1/3 Cup Sour Cream
Salt and Pepper
1 Pound Chicken Tenders
1/2 Cup Frozen Corn
1/2 Cup Chicken Gravy
1 Cup Shredded Sharp Cheddar Cheese
Method:
Boil the potatoes with the salt. To check to see if they're done, insert a fork, if the potato falls apart a little, drain.
In a large bowl mash together the potatoes, butter and sour cream. Check to see if you need to add some salt and pepper.
Bake the chicken tenders according to package instructions. Cut into chunks.
Spray a 9×13 pan and spread the potatoes evenly inside. Top with chicken, corn, gravy and cheese.
Bake at 400 degrees for 15 minutes. Cheese should be bubbly!
Serve and enjoy!