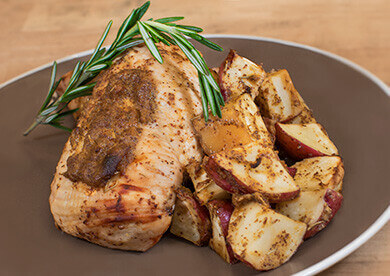 Ingredients:
1 1/2 Pounds of Boneless Skinless Chicken Breast
1 1/2 Pounds Red Potatoes
8 oz Country Dijon Mustard
1/2 Cup Maple Syrup
1 Tbsp Dried Rosemary
Salt and Pepper
Method:
Mix up the Dijon mustard, syrup and rosemary. Trim up the chicken and quarter the potatoes. Coat the potatoes and chicken in the mustard mixture. Place on a foil lined pan. Bake at 350 Degrees for 45-60 minutes or until the chicken is fully cooked and potatoes are tender.