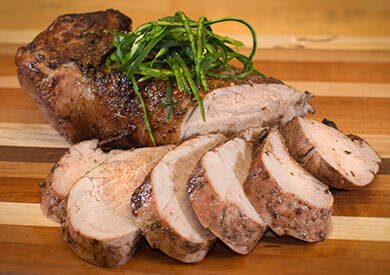 Ingredients:
1 Package Pork Tenderloin
1/4 Cup Balsamic Vinegar
1/4 Maple Syrup
1 Tsp Salt
1/4 Tsp Black Pepper
1 Tbsp Oregano
1 Tsp Powdered Garlic
1/2 Tsp Dry Mustard
Method:
Marinate the pork with the rest of the ingredients for at least 4 hours.
In a frying pan, heat a little oil. Sear on each side until golden brown. Bake at 350 degrees for about 40 minutes or until fully cooked through at a temperature of 145 degrees.
Allow to rest for a couple of minutes then slice and serve!