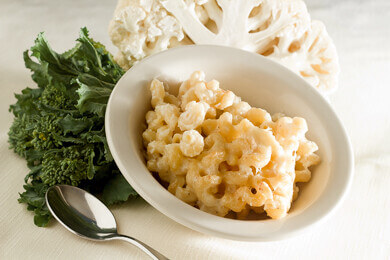 A kid favorite with a twist that all will love!
Ingredients:
1 Pound Noodles (Elbow, Cellentani, Fussili)
1 Cup Cauliflower
4 oz Cream Cheese
4 oz White Sharp Cheddar, Shredded
Salt, pepper and Garlic
Method:
Boil the cauliflower until fully cooked, but not mushy. About 15-20 minutes. Drain very well. In a blender or food procesor, blend the cauliflower with the cream cheese until smooth. Set aside
Boil the pasta until al dente, about 8-10 minutes. Drain very well.
In a large bowl, combine the pasta, cream cheese mix and cheese. Season to taste with salt, pepper and garlic. Place in a 9x9in baking pan and bake at 350 for about 10 minutes.
Serve and enjoy! Serves 6