3 classic ideas for your next lunch, made easy of course!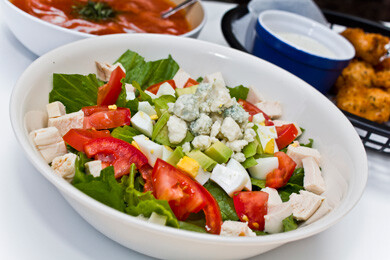 Classic Cobb Salad
1 Head of Romaine Chopped
2 Hard Boiled Eggs
2-3 Plum Tomatoes Diced
1-2 Avocados Diced
1 Pound Chicken Breast Cooked and Diced
6 oz Ham diced
Blue Cheese Crumbles
Top the lettuce with all or some of the above. Add in your own favorites if you so choose! Top with your favorite dressing and serve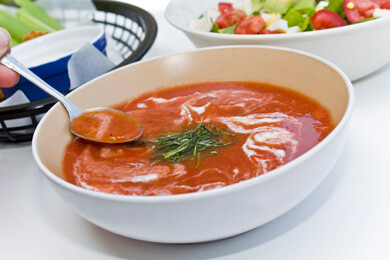 Shortcut Tomato Soup
28oz can Whole Peeled Tomatoes
1-2 Garlic Cloves
1 Rib of Celery
2-3 Basil Leaves (fresh)
1 Cup Chicken Broth
1/2 Cup Heavy cream
Pepper
In a blender or food processor, puree the tomatoes, garlic, celery and basil. Place in medium sauce pot and bring to a simmer. Add chicken broth and cook for about 20 minutes, stirring often. Add heavy cream and cook for about 10 minutes. Season with pepper to taste and serve!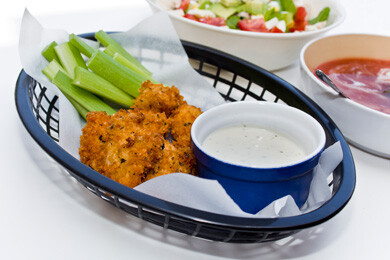 Panko Breaded Chicken Nuggets
1 Pound Chicken Breast
1 Egg
1/2 Cup Buttermilk
2 Cups Panko Breadcrumbs (plain)
1 Tsp salt
1/4 Tsp Pepper
1/4 Tsp Paprika
1/2 Tsp Basil
Oil
Cut up the chicken into nugget size pieces. whisk the egg and buttermilk together in a bowl, then toss the chicken to coat. Combine the dry ingredients together.
In a large pan add oil to 2 inches deep (just enough to cover the chicken) Heat on high until hot (about 350 degrees if you have a thermometer, do not smoke)
Remove the chicken from the egg mixture and bread in bread crumbs. Carefully add the chicken to the oil and cook for about 5 minutes, turning half way. Chicken should be cooked through and golden brown when done. Remove from oil and drain on paper towels. Serve!