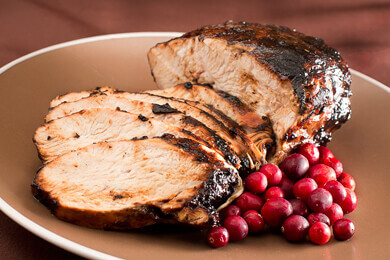 Looking for a tasty alternative for the traditional whole turkey for Thanksgiving? This quick and easy main course is a crowd pleaser!
2-3 Pounds Fresh turkey breast
1/4 Cup Balsamic Vinegar
1 Cup Canola Oil
1 Tbsp Salt
1 Tsp Pepper
1 Tsp Basil
1 Tsp Poultry Seasoning
1 Tsp Garlic
Method:
Place the vinegar into a large bowl. Slowly add in the oil whisking constantly. Add in the seasonings and marinate the turkey 24-48 hours.
Heat an oven to 400 degrees. Bake for about 30 minutes uncovered. The turkey should be dark golden brown. Reduce the heat to 350 and cook for another 30 minutes or until it is fully cooked (165 degrees internally)
Allow to rest once removed from the oven for about 10 minutes. Slice thinly and serve!