Loaded Once Baked Potato Slices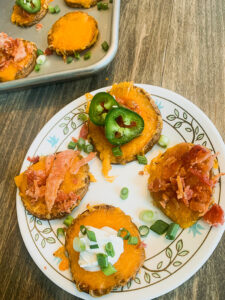 Ingredients:
2-3 Russet Baking Potatoes
Olive Oil
1 Tbsp Garlic Salt
1 Cup Shredded Cheddar Cheese
Various Toppings I.E. Crumbled Bacon, Salsa, Sour Cream, Taco Meat
Method:
Wash and pat dry the potatoes. Cut the ends off and slice about 1/4 inch rounds. (The thinner, the crispier) Brush both sides with olive oil and season with garlic salt on both sides too. Place on a foil lined sheet tray and bake for 15 minutes at 350 degrees then flip over. Bake for another 15-20 minutes until golden brown. Top with cheese and place back in the oven to melt. Top with toppings and serve!