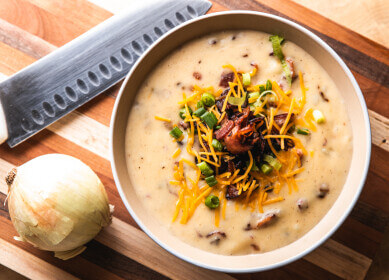 Ingredients:
3 Pounds Red Potatoes
4 Tbsp Butter
1 Onion Minced
3-4 Garlic Cloves Minced
1 Pound of Bacon Chopped
1 Quart of Milk
1 Cup Shredded Cheddar Cheese
Salt and Pepper
Scallions
Method:
Wash and quarter the potatoes. In a large pot, boil until soft. Drain the water and mash with butter, leaving a few lumps. Return to the pot add the milk heat over low.
In a separate skillet, cook bacon, onions and garlic until crispy. Drain the fat and add bacon mixture to the soup.
Add cheese and salt and pepper to taste. Stir to combine and remove from heat. Top with scallions.