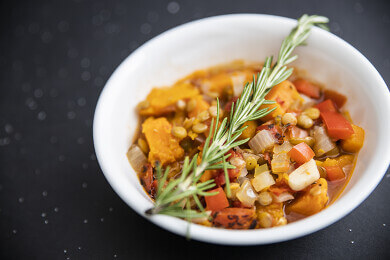 Ingredients:
2 Sweet Potatoes
1 Butternut Squash
Olive Oil
Salt and Pepper
1 Medium Onion, Diced
1 Red Pepper, Diced
2 Ribs of Celery, Diced
4-5 Garlic Cloves, Minced
2 14.5 oz Cans Roasted Tomatoes
64 oz Vegetable Stock
16 oz Green Lentils (dry)
1/4 tsp Smoked Paprika
1/4 tsp Black pepper
1 Tsp Rosemary
Method:
Wash the sweet potatoes and squash. Cut the squash lengthwise and remove the seeds. Rub sweet potatoes and squash with olive oil. Place on a baking pan and season with salt and pepper (place the squash skin side down). Roast at 350 degrees for 45-60 minutes. The top of the squash should be bubbly and the sweet potatoes should be tender. Allow to cool and remove the skins. Dice the potatoes and the squash. Set aside
In a large pot, combine the veggies and sweat over high heat for about ten minutes. Add the tomatoes and stock and bring to a simmer. Rinse the lentils under cold water and drain. Add to the soup. Add seasonings and simmer for about 45 minutes. Check to see if the lentils are cooked through. Add the sweet potatoes and squash to the soup and remove from the heat.
Serve and enjoy!