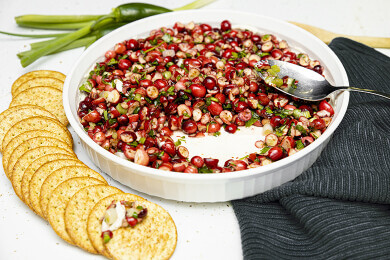 Ingredients:
12 oz Fresh Cranberries
1-2 Jalapenos
3 Scallions
2 Tbsp Fresh Chopped Italian Parsley
2 Tbsp Lemon Juice
3/4 Cup Sugar
2 Bricks Reduced Fat Cream Cheese
1/2 Tsp Salt
1 Tsp Granulated Garlic
Method:
Rinse and dry the cranberries and chop roughly. Mince jalapenos (remove the seeds and ribs to make it a bit more mild). Chop the scallions. Toss cranberries, jalapenos, scallions, parsely, lemon juice and sugar together in a large bowl. Let stand at room temp for about an hour. Drain thoroughly.
Beat cream cheese with salt and garlic with an electric mixer until smooth and fluffy. Spread cream cheese into a pie plate or serving plate. Top with cranberry mixture and serve with crackers!!