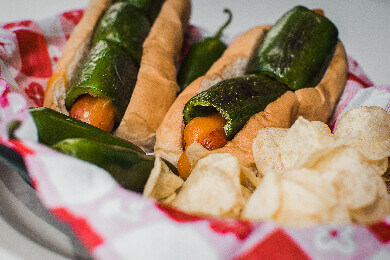 Ingredients:
Hot Dogs, Bun Length
Fresh Jalapenos (2-3 per hot dog)
Sharp Cheddar Cheese cut into 1/4 inch sticks
Hot Dog Buns
Method:
Remove the ends of the peppers, then remove the seeds and white parts. If you area able to find jumbo peppers, leave whole, if they are smaller, slice one end lengthwise.
Cut the hot dogs lengthwise but not all the way through. Place cheese inside and wrap with jalapenos. If you cut your peppers, secure them with a toothpick. Pan fry or grill until peppers are blistered and cheese is melty.
Serve and enjoy!