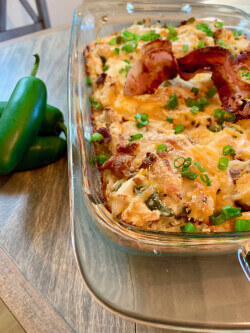 Ingredients:
30 oz bag Frozen Shredded Potatoes
1 Pound Bacon
1 8oz Brick Cream Cheese (softened)
1/2 Cup Sour Cream
2 Cups Shredded Cheddar Cheese
6 Jalapenos
1 Cup Shredded Chicken
Plain Bread Crumbs
Method:
Spray a 13×9 pan and spread out the potatoes. Bake at 350 degrees for 30 mins. Remove from oven.
While potatoes are in the oven, cook the bacon and drain the fat. Remove the stem, seeds and membrane from the peppers and chop. Saute in the bacon pan for 5 minutes. Combine cream cheese, cheddar, sour cream, jalapenos, chicken. Crumble up the bacon and add that in too. Spread over the potatoes.
Top with a little extra cheese if desired, and some bread crumbs. Bake at 350 degrees for 30 minutes, or until bubbly.
Serve and enjoy!