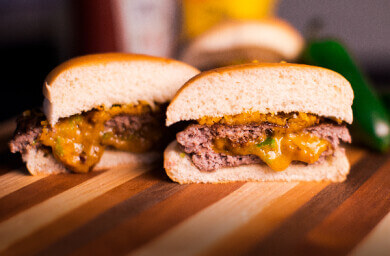 Ingredients:
10 Slices of thick cut bacon
2 Jalapenos
2 Cups Shredded Cheddar Cheese
2 Pounds Ground Beef
Burger Buns
Method:
Cook the bacon until crispy, drain from fat. Chop the bacon.
Dice the peppers, removing the seeds and ribs.
Combine cheese, peppers and bacon in a food processor on pulse until combined. Form into 8 patties and freeze them on a parchment lined pan.
Divide the meat into 8 even balls. Take each ball and make two smaller patties very flat. Place a cheese patty on one an top it with the other half of the flattened ball. Seal up the edges.
Grill or pan fry to desired doneness, top with any extra cheese mixture. Serve and enjoy!