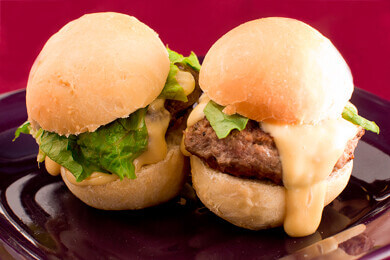 Ingredients:
Slider Rolls
2 Pounds Ground Turkey
1 Tbsp Olive Oil
1/2 Tbsp Basil
1/2 Tbsp Oregano
1/2 Tbsp Garlic Powder
1/4 Parmesan
Salt and Pepper
Oil
1 Cup Mayonnaise
2 Tbsp Honey
2 Tbsp Dijon Mustard
Method:
Combine the mayo, mustard and honey and set aside.
Combine the turkey, olive oil, cheese and seasonings. In a large skillet, coat the bottom with oil and heat over medium flame. Form the turkey into patties roughly 3 inches in diameter (You should get 10-12 patties) Place in skillet and brown on both sides. Cook thoroughly and place drain excess oil on paper towels. Place on rolls with the honey dijonaise and serve!