Italian Hoagie Salad
Ingredients: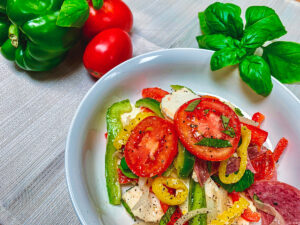 1/4 Pound Thin Sliced Salami
1/2 Pound Thin Sliced Pepperoni
1 Red Pepper Sliced Thin
1 Green Pepper Sliced Thin
1 Sweet Onion Sliced VERY Thin
1 16oz Jar of Banana Pepper Rings Drained
2 Pounds Fresh Sliced Mozzarella
2-3 Roma Tomatoes
Fresh Cracked Pepper
Kosher Salt
Olive Oil
2 Tbsp Fresh Chopped Basil
Method:
This one makes a lot (serves about 12), pare it down if you'd like to make a smaller salad.
Cut the salami and pepperoni into bite sized chunks and separate. Combine all the ingredients in a large bowl adding salt and pepper to taste and just a little olive oil. Allow to marinate for about 1 hour in the fridge and then serve!