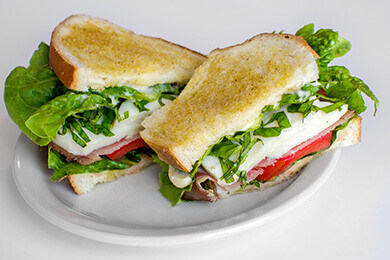 Ingredients:
3-4 Fresh Garlic Cloves
1/4 Cup Canola Oil
Salt
3 Tbsp Mayo
Fresh Italian Bread
Olive Oil
Salt, Pepper, Garlic Powder
Thinly Sliced Prosciutto (About 1-2 ounces per sandwich)
1 Roma Tomato Sliced
2 Romaine Leaves
1-2 Leaves Fresh Basil Chopped
2 Ounces Fresh Mozzarella Sliced
Method:
Toss the garlic in the canola oil and sprinkle with a little salt. Cook in the oven in a shallow dish at 350 degrees until tender and golden brown. Remove garlic from oil and mash. Mix with mayo and set aside.
Take bread slices and lay them out on a parchment lined cookie sheet. Mix olive oil with salt, pepper and garlic to taste. Brush onto one side and toast in the oven until golden brown. Remove and set aside to cool.
Spread mayo on the non olive oil side of two slices of bread. Top with lettuce, cheese, prosciutto, tomato and basil. Assemble sandwich and enjoy!
Visit fln.org/nickspicks for more Nick's Picks.