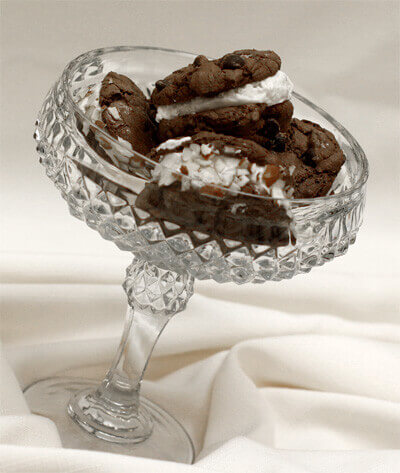 Ingredients:
The Cookie:
6 Ounces Semi Sweet Bakers Chocolate
2 Tbsp Butter
1 Cup of Flour
2 Tsp Cocoa
1 Tsp Baking Powder
1/4 Tsp Salt
3/4 Cup Sugar
2 Eggs
1 Tsp Vanilla
1 Cup Dark Chocolate Chips
Method:
In a medium metal bowl, place bakers chocolate and butter. Place bowl over a large pot with boiling water, making sure that the bowl doesn't touch the water itself. Stir to combine as the chocolate and butter melt until smooth. Let cool slightly
In a different bowl, combine flour, salt, cocoa and baking powder.
In yet another bowl, whisk together the eggs, vanilla and sugar until thoroughly combined. Add flour mixture a little at a time to the eggs until incorporated. Add melted chocolate and fold into the batter. Add Chocolate chips and fold those in as well.
Drop cookie dough onto parchment lined cookie sheets about an inch apart from one another. Dough balls should be uniform in size, about 2 tablespoons per cookie. Bake at 300 degrees for about 10-12 minutes until soft. Let cool on a cooling rack until completely cool before removing them from the pan. Makes about 32 cookies.
To asseble the sandwiches, scoop your favorite kind of ice cream in between two cookies. Let the ice cream warm up a little at room temperature before scooping. Smooth the edges and roll the sandwiches in nuts, candies or other toppings if desired. Place the sandwiches back in the freezer until frozen solid.
To serve, take them out a couple minutes before eating! Enjoy!