An Easter favorite that you can make at home!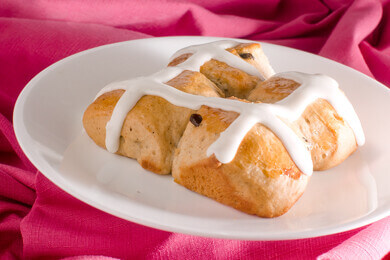 Ingredients
1/2 Cup Water
1/2 Cup Whole milk
4 1/2 Tsp Active Dry Yeast
1/3 Cup Melted Butter, Plus additional
1 Large Egg yolk
2 Large Eggs
1 1/2 Tsp Vanilla
3 Cups of Flour
3/4 Tsp Salt
1/2 Tsp Nutmeg
1/2 Tsp Ground Cloves
1/2 Tsp Cinnamon
1/4 Tsp Ground Ginger
1/2 Cup Raisins or Currants
Icing-
2 Cups Confectioners Sugar
2 Tbsp Milk
1/4 Tsp Freshly grated lemon zest
1 Tsp Vanilla
Method:
Bring the water and milk to a simmer in a medium sauce pot. Allow to cool slightly.
Once not hot, add yeast, a pinch of sugar and a pinch of flour. Let sit for about 30 minutes without stirring
Whisk together the melted butter, the one yolk and one egg and first listed vanilla. Add to the yeast mixture.
In a separate bowl, combine flour, sugar and spices. Add the egg mixture and stir with a wooden spoon. Dough should be crumbly.
Turn onto a floured work area and kneed for about 5-8 minutes until smooth. Place dough into a buttered bowl and cover with plastic. Let rise in a warm place for about an hour or until the dough has doubled in size
Remove dough and shape into a rectangle. Cut dough with a pizza cutter or a dough scraper into 12 equal squares. Tuck the corners in and place them in a buttered 9×12 pan. Cover with plastic again and let rise again. About 45 minutes
Scramble the last egg and brush over each bun. Bake at 375 for about 25 minutes.
Allow to cool. Whisk together the icing ingredients. Add a little more milk if needed to make a smooth icing. Place in a pastry bag or a plastic bag with the corner sliced off. Pipe over each bun in a cross shape as shown. Serve and enjoy!