Ingredients: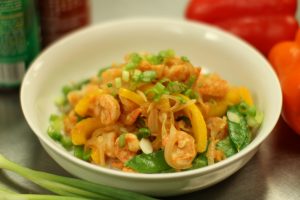 1 Pound Raw Shrimp, Peeled and Deveined
1 Tbsp Fresh Grated Ginger
2 Garlic Cloves, Minced
2-3 Tbsp Siracha
2 Limes, Zested and Juiced
2 Tbsp Hoisin
2 Tbsp Honey
1 Bell Pepper, Sliced
1 Onion, Sliced
2 Cups Snow Peas
Oil
Method:
Marinate the shrimp for at least two hours with the ginger, garlic, siracha, lime, hoisin and honey. Be careful not to marinate too long or the citric acid will actually cook the shrimp!
In a large sautee pan, heat a little oil and sautee the pepper and onion. Once tender, place the shrimp and the marinate and sautee until the shrimp is all cooked. Remove from the heat and add in the snow peas, stir.
Serve and enjoy!