Ingredients: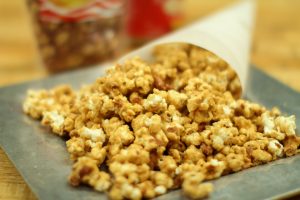 1/2 Cup Popcorn Kernels
Pan Spray
2 Cups Spanish Peanuts, Roasted and Salted
2 Sticks of Butter
2 Cups Brown Sugar
1/2 Cup Light Corn Syrup
1/2 Tsp Baking Soda
1 Tsp Vanilla Extract
Method:
In a large pot that has a lid, spray the pan with pan spay and heat on high. Add the popcorn and shake the pot with the lid on often so that the popcorn pops. Once the popcorn starts popping, turn the heat to medium and continue to shake until popcorn stops popping. Spray a large cookie sheet or two with pan spray and spread the popcorn out, removing any un-popped kernels. Add the nuts to the popcorn. In a medium sauce pot, bring the butter, sugar and corn syrup to a boil. Stir occasionally and boil for about 5 minutes. Remove the syrup from the heat and stir in the baking soda and vanilla. Continue to stir until the mixture stops boiling and pour over the popcorn.
Mix the popcorn and bake at 225 degrees for an hour, stirring every 15 minutes. The caramel will start to get absorbed and will no longer be gooey. Allow to cool and store in an airtight container for up to 3 days before enjoying!