This makes a lot of chili (4 gallons) but you can cook it up and freeze it, or take it for a dish to pass if you'd like! It does have some spice to it, so don't put in the hot sauce and cayenne pepper if you're one that doesn't like the heat!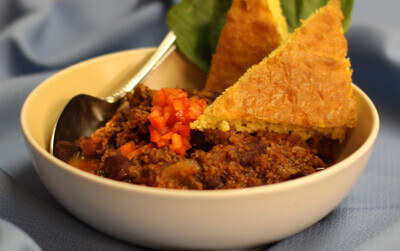 Ingredients:
10 lbs Ground Beef
1 Large Yellow (Spanish) onion chopped
6 Cans Dark Red Kidney Beans rinsed and Drained (15.5 oz size)
4 Cans Crushed Tomatoes (28 oz size)
1 Tbsp Salt
1 Tbsp Pepper
1 Tbsp Powdered Garlic
¼ Cup Paprika
1 Tbsp Cayenne Pepper
1/3 Cup Dark Chili Powder
1/3 Cup Hot Sauce (Franks')
2 Cups Ketchup
1 Tbsp Beef Base (or one bouillon cube)
½ Gallon Water
Method:
Brown in the beef in a large pot. Drain Excess fat. Sautee onions in the pot while beef is draining (about 1-2 minutes) Add beef back to pot and cook onions until tender.
Add the rest of the ingredients and seasonings and bring to a very low simmer. Continue to cook for about 2 hours at least.
Serve with cornbread or rice and enjoy!