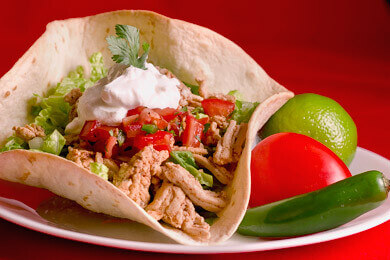 Ingredients:
6 Burrito Style Flour Tortillas
Olive Oil
1 1/4 Pound Lean Ground Turkey
Salt and Pepper
1 Tbsp Paprika
1 Tsp Dark Chili Powder
1/2 Tsp Cayenne Pepper
1/4 Tsp Cumin
1/4 Tsp Onion Powder
1/2 Cup water
Romaine Lettuce (About 6 Cups Chopped)
6-8 Plum Tomatoes Chopped
1 Jalapeno Minced, Ribs and Seeds Removed
1 Tbsp Chopped Cilantro
Sour Cream
Method:
Brush tortillas with olive oil on both sides. Sprinkle with a little salt and place one on top of an oven safe bowl. Place another oven safe bowl upside down on top of the tortilla. Place on a cookie sheet and bake at 350 Degrees for about 10 minutes. Remove the top bowl and bake until crisp, about 5 more minutes. Repeat with the remaining tortillas
In a large frying pan, brown the turkey over high heat. Add seasonings and water. Cook until completely cooked.
In a medium bowl, combine tomatoes, peppers and cilantro. Set aside.
To assemble the salad, place lettuce inside taco shell. Top with meat, salsa and sour cream. Serves 6