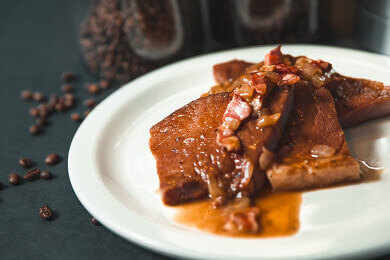 Ingredients:
1 Bone in Ham Steak
8 oz Chopped Bacon
1 Medium Onion Diced
3 Tbsp Flour
1 Cup of Coffee (the stronger the better!)
1 Cup Chicken Stock
1/2 Tsp Black Pepper
1 Tsp Cayenne Pepper
1/4 Cup Maple Syrup
2 Tbsp Butter
Method:
Heat a large skillet and cook the bacon and the onions, stir often. Once bacon starts to get crispy, add the flour and mix until combined. Add chicken stock, peppers and syrup. Bring to a simmer and set aside.
In a separate large skillet, pan sear the ham steak on both sides. Pour the coffee over the ham and simmer for about 10 minutes. Add gravy to the pan and stir to combine. Remove from the heat and melt the butter in the sauce.
Serve and enjoy!