Ingredients: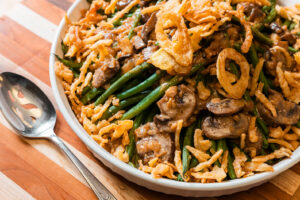 1 1/2 Pounds Fresh French Green Beans
1 Tsp Baking Soda
Salt
1 Tbsp Minced Garlic
1 Pound Fresh Portobello Mushrooms, Sliced
4 Tbsp Butter
1 Cup White Cooking wine
1 1/2 Cups Heavy Cream
1 Package Onion Soup Mix
1 Cup French Fried onions
Method:
Bring a large pot of water to a boil. Add in baking soda and salt then the beans. Blanche the beans by boiling for 3 minutes and draining and placing the beans in ice water. once cooled completely, drain again and pat dry. Set aside.
In a large sautee pan, melt the butter and add in the garlic. Sautee for 5 minutes, stirring often. Add in the mushrooms and stir often for another 5 minutes. Add in white wine or chicken stock and simmer for 5 minutes. Add in heavy cream and onion mix. Simmer for 5-10 minutes or until thick.
Spoon in about half of the mushroom sauce in a baking dish and arrange the green beans over top. Top with remaining mushroom sauce and bake for 25 minutes on 350. Top with onions and bake for an additional 5 minutes. Serve and enjoy!