A fun twist on a holiday classic!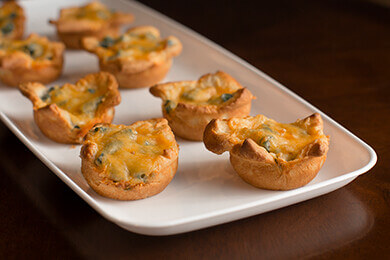 Ingredients:
1 Small can Cream of Mushroom Soup
16oz bag Frozen Cut Green Beans
1/4 Cup Whole Milk
Salt and Pepper
1/2 Cup French Fried Onions
2 Packages Crescent Roll Dough
1 Cup Shredded Cheddar Cheese
Method:
Spray muffin tins with pan spray. Roll out the crescent roll dough and pinch together the perforations. Cut the dough 8 squares per package. Place in sprayed muffin tins.
Mix together the green beans, soup, milk, salt and pepper to taste and onions. Spoon into muffin cups. Bake at 350 for 20 minutes, until the dough is golden brown. Top each with cheddar cheese and bake for another 5-10 minutes. Let rest on a wire rack for 5 minutes before removing gently from the pan.
For more recipes check out www.fln.org/nickspicks