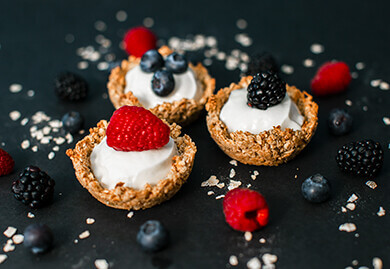 Ingredients:
2 1/2 Cups Quick Oats
1/2 Cup of Honey
1/2 Cup Apple Sauce
1 Tsp Cinnamon
Yogurt
Fresh Berries
Method:
Mix up the oats, honey, applesauce and cinnamon by hand. Press into sprayed muffin cups. Make sure to press up the sides too to make cups.
Bake at 350 degrees for about 15 minutes. Allow to cool in the pan. Remove when cool. Scoop yogurt into the cups (I used vanilla Greek yogurt) and top with fresh berries.
Serve and enjoy! Makes about 12