These honey wheat pancakes are piled high! After cooking the pancakes, dip them in a cinnamon egg batter and toast them up to create French Cakes!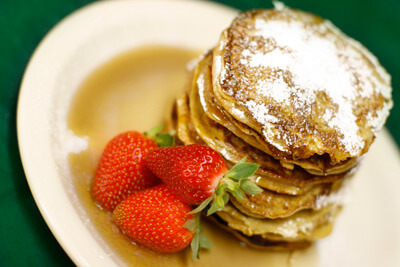 Ingredients:(Makes about 12 pancakes)
3 Cups Whole Wheat Flour
1 Cup Honey
¼ Cup Oil
1 Cup Water
1 Tsp Salt
1 Tsp Baking Powder
1 Tsp Cinnamon
1 Tsp Vanilla Extract
3 Large Eggs
2 Cups Heavy Cream
French Toast Batter
4 Large Eggs
1 Cup Heavy Cream Or milk
1 Tsp Vanilla Extract
1 Tsp Cinnamon
Method:
For the pancakes, heat a griddle to medium heat and spray with pan release. Pan should be hot, but not smoking. Combine flour, honey, oil, water, salt, baking powder, cinnamon and vanilla. In a separate bowl, whisk eggs until fluffy. Add cream and stir. Combine the egg mixture with the flour mixture. Batter should be thick and not lumpy.
Drop Pancakes onto griddle (about 4 inches in diameter). Cook on each side for about 3 minutes on each side until cooked through. Transfer pancakes on a cookie sheet to cool at room temperature.
Mix the ingredients together for the French Toast Batter. Individually coat each cooked pancake in the egg batter and place back on the griddle. Cook each side for another 3-4 minutes until all the egg is cooked.
Serve up hot with maple syrup, fruit and powdered sugar if desired!