Ingredients: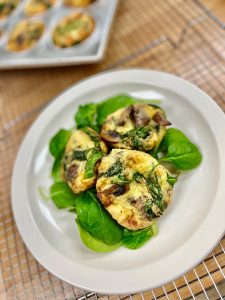 12 Eggs
1 Cup Milk or Cream
8oz Fresh Mushrooms
2-3 Garlic Cloves
5 oz Fresh Baby Spinach
Salt and Pepper
Olive Oil
1 Tsp Thyme
Method:
Slice the mushrooms about 1/4 inch thick and mince the garlic. In a large skillet, heat a little olive oil and sautee the mushrooms and garlic. Add salt and pepper and stir often for about 5 minutes. Add in about 3/4 of the spinach and cook until just wilted. Set aside.
In a large bowl, whisk together the eggs and milk. Season with salt and pepper and thyme.
Spray muffin cups well with pan release. Layer in the raw spinach in the bottom of each cup. This recipe makes about 18. Scoop in the mushroom and spinach mixture and pour in the eggs in each cup.
Bake at 350 degrees for 15-20 minutes or until the eggs are fully cooked. Cool on a rack for about 10 minutes before removing them and serving!