Ginger Honey Glazed Pork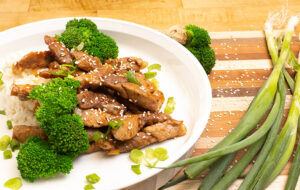 Ingredients:
1 1/2-2 Pounds Boneless thin sliced pork chops
1/2 Tsp Kosher Salt
1/4 Tsp Black Pepper
1/4 Tsp Garlic Powder
3-4 Garlic Cloves Minced
2 Tbsp Minced Fresh Ginger
1/2 Cup Honey
2-3 Tbsp Sriracha or Chili Garlic Sauce
1 Tbsp White Vinegar
Method:
Slice the pork chops into thin strips. Season with salt, pepper and garlic. In a large pan, heat a little oil over high heat. Gently place pork into pan, cooking on all sides. Remove the pork from the pan and drain well. Return the pan to the heat and add in the ginger and garlic. Sautee for about a minute and reduce the heat to medium. Add the honey, chili and vinegar. Bring to a simmer and cook for 5 minutes. Add the pork back to the pan and stir. Continue to simmer until the sauce thickens and coats the pork.
Serve over white rice and enjoy!