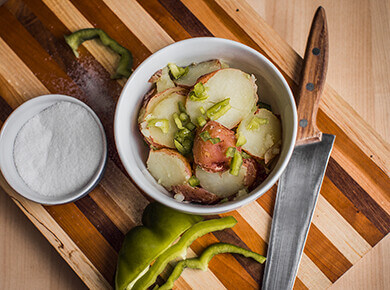 Ingredients:
2 Pounds Red potatoes
1 Tsp Salt
1 Cup Chicken Broth
2 Tbsp White Vinegar
1/2 Yellow Onion Minced
1/2 Green Pepper Minced
1/2 tsp garlic powder
1/4 tsp dry mustard
1/4 tsp black pepper
1/2 tsp salt
Method:
Boil the potatoes until just cooked through (insert a knife into the center of the potato, hold it upside down and if the potato slides off slowly, then they're done!)
Drain the potatoes and slice 1/4 inch thick. I leave the skins on, but you can peel them if you'd like. Place hot potatoes in a bowl and pour chicken stock over them. Cover with plastic wrap and let sit for about an hour. Drain the chicken stock. Add the rest of the ingredients and fold gently.
Serve at room temperature or warm!