The avocado makes this gazpacho smooth!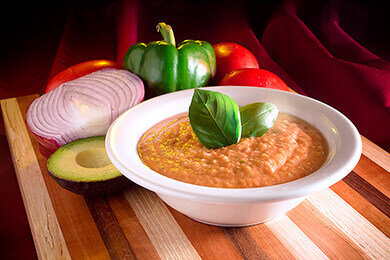 Ingredients:
4-5 Large Plum Tomatoes
1 Medium Green Pepper
1 Cucumber, Peeled
1-2 Garlic Cloves
1/2 of a Medium Red Onion
1 Jalapeno, Seeded (If you enjoy spicy)
1 Avocado
2 Slices of Crusty Italian Bread
1 Cup Olive Oil
Salt and Pepper to taste
Method:
Rough chop all the vegetables and place them in a blender. Pulse until almost smooth. Add bread in chunks and set to puree. Add olive oil as the blender is going. Continue to blend until smooth, but you can still see little chunks. Season with salt and pepper and serve cold!