Garlic Parmesan Chicken Wing Dip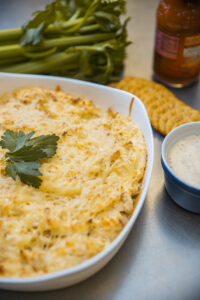 Ingredients:
1 1/2 Pounds Chicken ( I used boneless and skinless breasts)
2 8oz Packages Cream Cheese, Softened
1 Cup Parmesan Ranch Dressing
1 Cup Monterey Jack Cheese
1 Cup Parmesan Cheese, divided
1 Tbsp Minced Garlic
1 Tsp Garlic Salt
1/2 Cup Panko Bread Crumbs
Method:
Boil the chicken until very tender and starting to fall apart. Shred the chicken. Mix together the chicken along with the cream cheese, dressing, Monterey jack, 1/2 a cup of parm and the garlic. Place into a 8×8 baking dish and top with garlic salt. Bake at 325 degrees for 20 minutes. Top with bread crumbs and remaining parmesan and bake off once again for about 10-15 minutes. Once hot, bubbly, and golden brown, remove and serve!