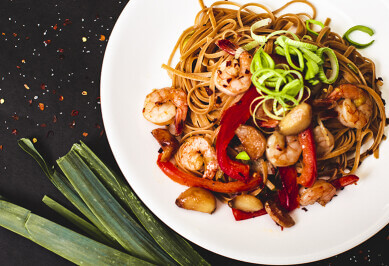 Ingredients:
1 Pound of Shrimp. Peeled and De-veined
Zest of one Lemon
12 Garlic Cloves
Olive Oil
Salt
1 Pound Whole Wheat Pasta
1 Red Pepper Julienne
1 Leek Julienne
Salt and Pepper
Red Pepper Flakes (if desired)
1 Cup Vegetable Broth
Method:
Thaw out the shrimp and drain. place in a bowl. Add Lemon Zest.
In a small baking pan toss garlic in a little oil and salt. Bake until golden brown. Drain. Add the garlic to the shrimp and mix together. Marinate for 4 hours in the fridge.
Boil water and cook the pasta as per instructions. Drain and set aside.
In a large skillet, heat a little oil and sautee the leeks and peppers until tender. Add salt, pepper and red pepper. Add stock and simmer. Drain the shrimp of any liquid and add the shrimp and garlic to the pan. Once shrimp is fully cooked, remove from heat and serve over the pasta.
Serves 4-6