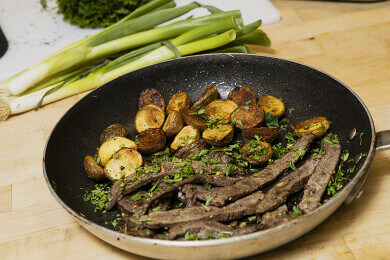 Ingredients:
1 Cup Olive Oil
1 Package of Flank Steak (about 2 pounds)
6-8 Garlic Cloves Chopped
1 Tsp Rosemary
1 Tbsp Salt
Juice From One Lemon
1 Pound Baby Potatoes Cut In Half
2 Tbsp Soft Butter
Method:
3-5 Days before dinner, marinate the steak in the oil with the garlic, rosemary, salt and lemon juice.
On Dinner day, slice the steak thin width-way. Take about 1/4 Cup of the left over marinade and place in in a large skillet. Heat over med heat and add the potatoes. Brown on all sides. Remove the potatoes and drain the liquid. Place the pan back on the stove and sear the meat over high heat. Once seared on both sides, add potatoes back in the pan and add the butter. remove from heat and serve!