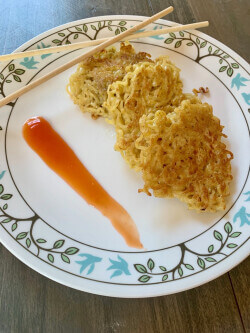 Ingredients:
1 Package Chicken Flavored 3oz Ramen
1 Egg, Beaten
1 Tbsp Flour
1 Tsp Onion Powder
1 Tsp Black Pepper
2 Tbsp Butter
1 Tsp Olive Oil

Method:
Boil the noodles for 5 minutes, breaking the noodles. Drain.
In a small bowl, mix the flour and the egg together. Add noodles, seasoning packets and seasoning. Mix together.
In a large skillet, melt butter and oil together. Spoon 4 cakes into the pan and brown on each side. Once fully cooked, remove from pan and serve with dipping sauces!
Enjoy!