Perhaps the perfect burger for the perfect dad?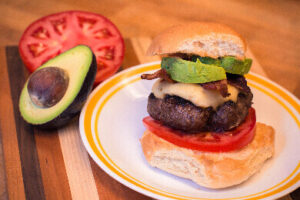 Ingredients:
2 Pounds Ground Beef
1 Tbsp Montreal Steak Seasoning
1 Tsp Onion Powder
1 Tsp Garlic Powder
1/2 Tsp Salt
1 Tbsp Soy Sauce
1 Tbsp Worcestershire Sauce
Burger Buns (toasted!)
Pepper Jack Cheese
2 Avocados Sliced
Bacon (of course!)
Methods:
Combine the meat and the seasonings. Form into 8 patties of equal shape and size. Grill to perfection! Top with cheese to melt. Add avocado slices and bacon and serve! Whip up some horseradish mayo to give it a little kick!