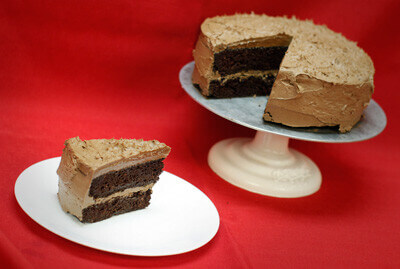 Ingredients:
Cake-
1 Cup Unsweetened Cocoa Powder
2 Cups Boiling Water
2 3/4 Cups All Purpose Flour (Sifted)
2 Teaspoons Baking Soda
1/2 Teaspoon Baking Powder
1/4 Teaspoon Salt
1 Cup Butter Softened
2 1/2 Cups Granulated Sugar
4 Large Eggs
1 1/2 Teaspoons Vanilla Extract
Frosting-
2 Pounds Butter Softened
2 Pounds Powdered Sugar
1 Cup Unsweetened Cocoa
1 Teaspoon Vanilla Extract
1 Teaspoon Milk
Method:
Combine Cocoa and Boiling water, whisking until dissolved. Cool completely. Combine flour, baking soda, baking powder and salt. Preheat oven to 350 degrees and grease and flour two 10″ cake pans.
At high speed, beat butter and sugar until fluffy. Scrape down bowl as needed. Add eggs one at a time on low along with vanilla. Alternate adding flour mixture and cocoa mixture on low speed, starting and ending with the flour. Mix until just combined.
Divide batter into cake pans and bake for about 20-25 minutes or until a inserted toothpick comes out clean. Cool on cooling rack until cool
For the batter, beat butter at high speed until light and fluffy. Add sugar a little at a time until combined. Scrape down bowl as needed. Add Cocoa until combined. Beat on high until soft peaks form. Add milk and vanilla.