Full of taste to please everyone!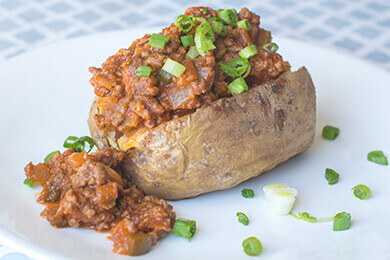 Ingredients:
2 Pounds Ground Beef
1 Green Pepper Diced
1 Onion Diced
1 15oz can Tomato Sauce
2 Tbsp Tomato Paste
2 Tbsp Dijon Mustard
3 Tbsp Apple Cider Vinegar
1 Tsp Salt
1 Tsp Garlic Powder
10 Medjool Dates Pitted
4 Baked Potatoes
Green Onion for Garnish
Method:
Brown beef with onions and pepper. Drain the fat and return to pan. Add tomato sauce and paste, mustard, vinegar and spices. Bring to a simmer and reduce heat.
In a separate pot, bring about 2 cups of water to a simmer. Add dates and turn off heat. After 5 minutes, remove dates from water, but save the water. Add 1 1/3 cups of the date water into the beef. Chop or puree the dates and add that to the beef.
Simmer until thick, scoop into baked potatoes and serve with a little green onion garnish!