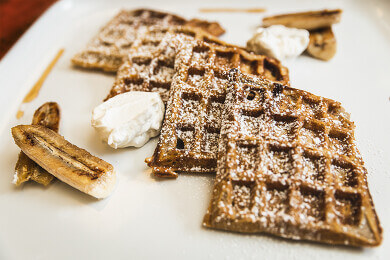 Ingredients: 
1/3 Cup Ground Espresso
Water
1 1/2 Cups Flour
1/4 Cup Granulated Sugar
1/4 Cup Cornstarch
2 Teaspoons Baking Powder
1/2 Teaspoon Baking Soda
1/4 Teaspoon Salt
1/2 Cup Butter, Melted
1 Cup Buttermilk
1 Teaspoon Vanilla
2 Eggs, Separated
Method:
In a small pot, combine coffee and 1 cup of water. Bring to a simmer, continue to simmer for five minutes. Strain through a coffee filter, saving the coffee.
In a large bowl, combine flour, sugar, cornstarch, baking powder and soda and salt.
In another bowl, whisk together the egg yolks, vanilla, melted butter, buttermilk and coffee. Butter and coffee should be room temperature. Do not over mix.
In yet another bowl, or in a mixer, whip the egg whites until stiff peaks form.
Combine flour and egg yolk mixture until the mixture comes together. Fold in egg whites gently until just combined.
Cook in a hot waffle iron for about 5 minutes. Serve with whipped cream, syrup, or your own favorites!