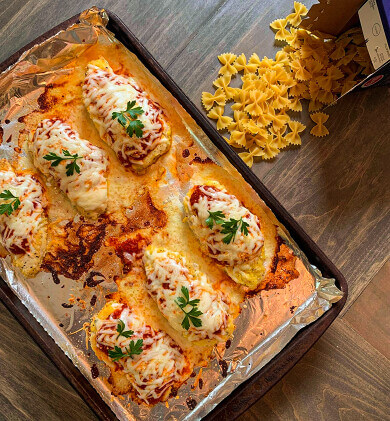 Ingredients:
1 1/2 Pounds Chicken Breast
2 Eggs, Beaten
1/2 Cup Panko Bread Crumbs
1/2 Cup Shredded Parmesan Cheese
1/2 Tsp Salt
1/2 Tsp Garlic Powder
1-2 Cups Marinara Sauce
2 Cups Shredded Mozzarella
Method:
Slice the chicken breast in half width-ways (like you're slicing a bagel). Pat dry with a paper towel.
Place the eggs in a rimmed plate or pie pan. Mix together the bread crumbs, parm and spices and place them in a shallow dish.
One at a time, coat each chicken slice in the eggs and then into the bread crumbs on each side. Place on a sprayed foil lined pan. Bake at 375 for 10 minutes and flip over. Bake for another 10 minutes. Top with sauce and mozzarella. Bake for another 10 minutes until cheese is hot and bubbly.
Serve and enjoy!!