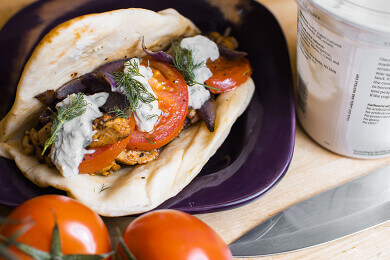 Ingredients:
1.5 Pounds Boneless Chicken Thigh
2 Cloves of Garlic, Minced
1 Tsp Coriander Ground
1/2 Tsp Red Pepper Flakes
Salt and Pepper
1 Tsp Paprika
1 Tsp Dried Rosemary
1/2 Cup Olive Oil
Juice from one Lemon
Pita or flat bread
1 Red Onion Sliced
1 Tomato Sliced
Olive Oil
Salt and Pepper
Tzatziki Sauce:
1 Seedless Cucumber, Shredded
2 Cloves of garlic
2 tbsp fresh dill
Juice from half a lemon
Salt and Pepper
2 Tbsp Olive Oil
2 Cups Plain Greek Yogurt
2 Tbsp Honey
Method:
Place the chicken in a plastic bag and pound thin with a meat mallet or rolling pin.
Mince the garlic and combine with the seasonings and olive oil and lemon juice. Rub into the chicken and marinate overnight.
For the tzatziki sauce, Place garlic, dill, lemon juice, oil, yogurt in a food processor or blender and pulse until smooth. Press the liquid out of the cucumber and add it to the mix. Add salt and pepper and honey to taste. Refrigerate.
Pan sear or grill the chicken until fully cooked. Sautee the onion in a separate pan with a little olive oil until tender.
Assemble sandwiches with chicken, onion, tomatoes and tzatziki. Serve and enjoy!